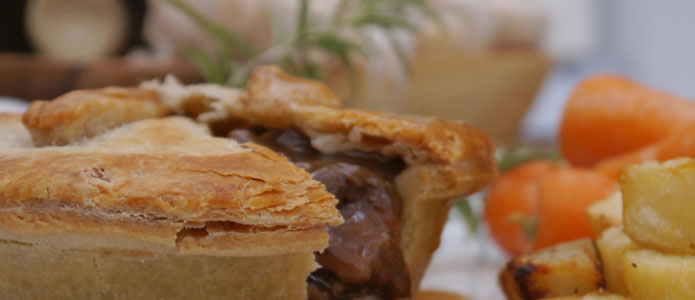 At Goddard's Pies, we've learned a thing or two over the years about how to produce quality products for catering businesses and wholesalers.
That's because we've been doing so since the late 19th century and that's why we are well positioned to help you make a success of your catering business – we provide you with quality, handmade pies and desserts that will make a real impact with your customers and get them coming back for more!
Here is a brief selection of some of the frequently asked questions relating to our products and services.
Are your products still really handmade?
Yes, they really are!
This means that you can guarantee to your catering customers that there is something different about these pies and desserts in terms of their quality and the care and attention put into their production.
These are big selling points in today's catering marketplace.
In terms of the specifics, all of our savoury pies are hand-filled. We also fit the pie casings together by hand and these are things we never compromise on.
Our desserts are lovingly handmade and topped with an all rich butter crumble.
All our ingredients are locally sourced and are only of the best quality, offering your customers a truly tantalising taste experience.
How easy are they for us to prepare?
Very. We can ship our desserts frozen and pre-baked, requiring only a microwave.
Our savoury pies are supplied unbaked and frozen, so they can be served straight from the oven, too, for a truly authentic experience.
What sort of desserts do you offer?
As you might imagine, we are proud of our traditions and therefore we offer great favourites such as apple or apple and blackberry crumbles.
However, we don't rest on our laurels as far as traditional handmade desserts are concerned and we also offer more mouth-watering combinations including plum and mixed spice, or gooseberry and elderflower crumble.
We are finding today that many customers are looking for something to make their catering proposition just that little bit different. Some of the above flavours might help to achieve that. You can check out our delicious range of hand crafted desserts here.
Who are your customers?
Our customers are food businesses and wholesalers. We are always eager to discuss the individual requirements associated with providing our products to trade establishments and would welcome your call to discuss the details. For example, we are very happy to supply mixed pallets of our products if required.
What is your ingredients policy?
We only use the very best produce and any of our suppliers will tell you that our standards are exacting to say the least.
For example, our desserts are all made with the very best British flour and that explains in part why the quality of our pastry is so high. The other reason is, of course, our expertise!
Some of our cooking techniques have been evolved over more than 120 years and as you might imagine, we guard our secrets carefully.
Where are you based?
Although our origins were in London, today Goddard's Pies premises are in Kent and are very conveniently situated for the southeast of England, London and what might be termed the M25 circuit.
However, we deal with customers just about everywhere and shipping to you in the UK or abroad is not a problem.
You might also like