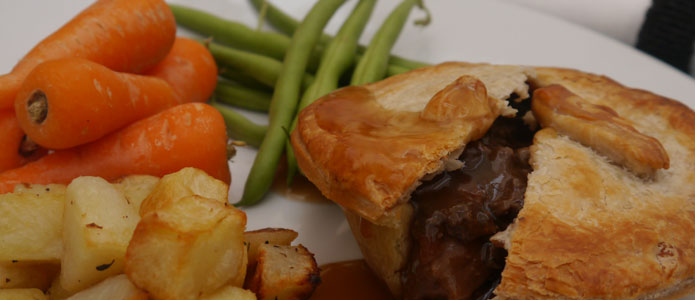 Nobody in the food business should be under any illusions whatsoever – the world is changing and very quickly. The days when the consumer simply wanted the cheapest possible mass-produced products, irrespective of quality, are going.
Today the end customer is increasingly discerning and they are demanding better quality and more individuality from the food products they are consuming. For catering wholesalers and businesses, sourcing quality pies and desserts that are genuinely handmade using only the finest of British ingredients may be difficult.
The good news is that here at Goddard's Pies, we can help you deliver on these new market expectations, with our range of handmade, traditional savoury pies and fruit crumbles. At Goddard's we manufacture:
savoury pies which are available direct to food businesses and wholesalers in traditional flavours such as Steak and Ale as well as more contemporary flavours such Chicken Balti; and
fruit crumbles such as Cherry or Bramley Apple and Blackberry topped with a rich all butter crumble, which are available for wholesalers
This means you can give your customers a truly authentic taste experience that will get them coming back to you for more!
Our legacy
We started operations in the days of Queen Victoria back in 1890. Our on-going success has been attributable to our valuing and maintaining our small local business philosophy combined with an unshakeable commitment to quality.
Of course, we've expanded since those early days but our superb dessert and pie range is authentic and handmade and uses only the very best of local ingredients. We're more than happy to share the details of that with any customer.
Modern times
Yet we recognise the challenges of modern catering and over the last 120 years we have moved to meet the evolving needs of the market.
So, today, all our desserts are fully baked then rapidly frozen prior to shipment to preserve them at their very best. They're then shipped to you and all you need to do is to microwave them in line with our instructions and you'll have perfection on a plate.
Just a sample of some the delicious original flavours offered includes:
Kentish Bramley Apple crumble
Gooseberry and Elderflower crumble
Plum and Cherry crumble
Our savoury pies are handmade on our premises and are supplied frozen and unbaked. You can offer your customers both traditional and contemporary, unique flavours including:
Chicken and Mushroom pie
Moroccan Lamb pie
Steak and Ale pie
Cheese and Onion pies
Drawing upon our uniqueness
Our long trading history, coupled with our commitment to independence and innovation, means that you can be sure we will be able to offer you products that are ideal for those discerning catering events.
We can also offer mixed pallets, as we know that many customers like a degree of variety coupled with quantity.
At Goddard's Pies and Desserts, our traditional values mean we are committed to flexibly serving our customers and their needs rather than asking that they conform to the way we do things. We'd welcome the opportunity to demonstrate that to you!
You might also like